10 Questions With The Bright Light Social Hour
We've really enjoyed having artists grace our presence for MonoSonic Sessions—the latest Howler Music endeavor from Howler Brothers. If you haven't heard of this yet, we kicked off a music series where we invite you to get up close with artists we love while they play a couple songs for us. Everyone hangs before and after the show to drink and be merry. It's been great. 
Ahead of its release, The Bright Light Social Hour performed some select tracks from their brand new album, Emergency Leisure, released August 2, 2023. Amidst the first leg of their tour in Alaska, they were gracious enough to answer some burning questions we had for them post MonoSonic Sessions. So here it is: 10 questions with The Bright Light Social Hour.
THANK YOU AGAIN FOR PLAYING MONOSONIC SESSIONS FOR US! SINCE THE RECORDING, YOU'VE EMBARKED ON A TOUR FOR YOUR BRAND NEW ALBUM, EMERGENCY LEISURE, WHICH WAS RELEASED TODAY. HOW IS IT GOING SO FAR? 
TBLSH: Thank y'all so much for having us. The tour is just getting off the ground—we've performed at the Carbondale Mountain Fair in CO and Salmonfest in Ninilchik, AK. Preparing for this album release and tour has been a massive lift - especially after a number of years off the road due to the pandemic. Now that the shows are finally here and we get to share this music, it's all starting to lift our spirits. This band was essentially built on the road and it's been difficult to be grounded these past few years -- we have a lot of pent up energy ready for release.
Emergency Leisure resonates deeply after the last couple years. What's the story behind the name and what is your Emergency Leisure of choice? 
TBLSH: We toured North America last in 2019 supporting our album "Jude Vol I." In some ways, it was a tough tour that brought long-term issues to the surface. In the midst of it, one of our favorite shows landed at L'Escogriffe in Montreal - a nightclub with a real gritty disco vibe. After the show, we put aside the tensions of the road and danced the night away. L'Escogriffe ended up a working title and an inspiration for the set of songs that eventually became "Emergency Leisure." We hope to share that attitude of taking a break for yourself and releasing some of that tension and pain we all hold within - dance it off y'all.
Y'all have been hitting it hard since 2010. What's new or different about this album? 
TBLSH: New lineup! This is the first album that features Zac Catanzaro on drums, Mia Carruthers on keys and vocals, and Juan Alfredo Ríos on percussion. We're a quintet now after years as a quartet and I love what that's bringing to the sound - more energy, more texture, more range. The collaborative energy in this group is strong—it's never been easier to lift each other to greater heights.

Emergency Leisure depicts an epic feast in its album artwork. What were you eating & drinking when you made this record? 
TBLSH: Our dear friend Jaycee Grover helped set up that massive spread and capture the photo. We all brought a little something special from our own tastes—elotes, great wine, pasta and meatballs, a bevy of hot salsas. Jackie loves to read tarot cards in quiet moments at the studio and abundance kept coming up. After years of going without some big elements in our lives - touring, concerts, social contact of all kinds—it's certainly time for a little abundance.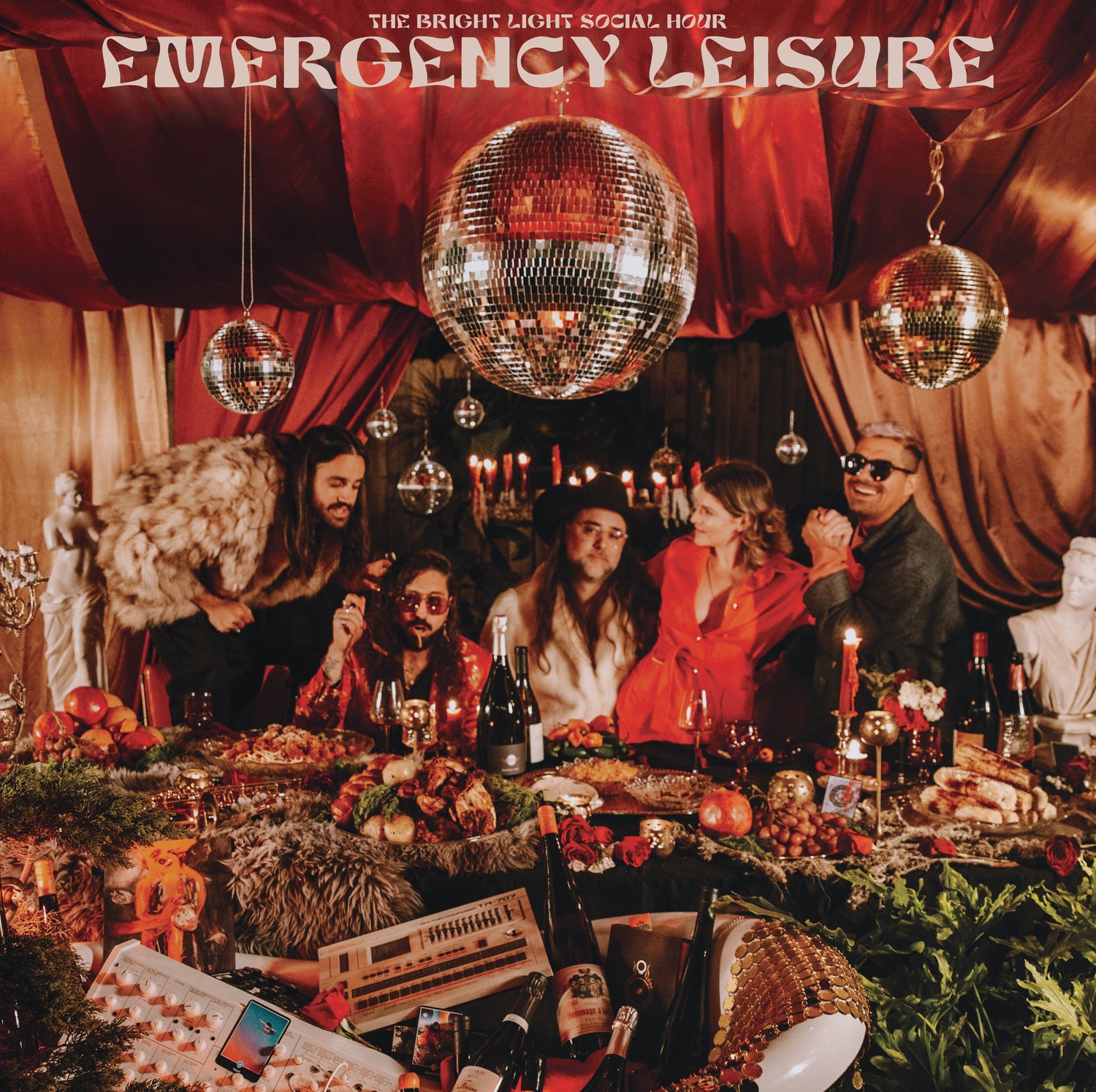 Liquid error (snippets/responsive-image line 45): invalid url input
If you could tour anywhere in the world, where would it be?
TBLSH: TBLSH has never been to Europe! We're overdue.
What's in your tour bus/van dash right now?
TBLSH: Our future tour vehicle is getting some final repairs before hitting the road. It's as clean as it's going to get!
What's your guilty pleasure record/music you love that you're potentially embarrassed to admit?

TBLSH: I gave up on the notion of guilty pleasures recently. I love so much music and try to actively avoid an elite/hater mentality that's still a little too common in the "indie music" community. That said, I listen to a lot more heavy music and hip-hop than the band's sound might suggest. Huge Pantera fan ever since I was an aspiring young shredder down here in Texas. It's hard to be a Kanye fan these days, but nonetheless I think all of his records are total classics and he's among my biggest production inspirations.
Got any unexpected celebrity fans of your music?
TBLSH: Never personally introduced, but supposedly Bryan Cranston had a big hand in landing us the theme for Amazon Prime's "Sneaky Pete." Thanks Bryan! I think Chloe Grace Moretz tweeted about us once lol.
I believe I saw a kid is on tour with y'all—is this a roadie in training? How does that work?
TBLSH: Jackie's sweet little one Siena just joined us in Alaska. She's nearly four and such an awesome traveler. Gotta start training replacements if we want this band to make it to the 22nd century, ya know?
Finally: What's the craziest thing that's ever happened on stage?
TBLSH: All sorts of things have been thrown on stage—joints, underwear, people. We've been robbed while on stage. Natural disasters, mass shootings, plenty of grizzly news dropped while up there. But for me, I'll take the light stuff—on our last set of Salmonfest this past weekend, we lost power on the final song but just kept the chorus going with drums, percussion, and singing at the top of our lungs until we had the whole crowd singing back. Magic moment right there. 
Stay in touch with The Bright Light Social Hour on Instagram, and find all their tour info, merch, content and more on their website at www.thebrightlightsocialhour.com.